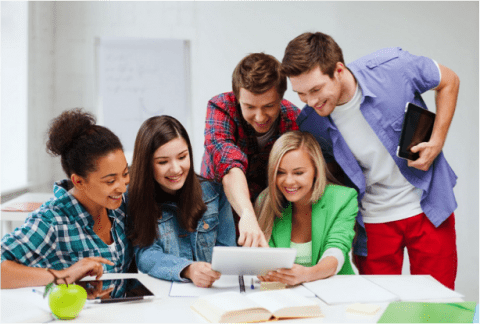 How to Increase the Number of Applicants to Master's Programs
Read a summary or generate practice questions based on this article with the new INOMICS AI toolhere.
Fall is just beginning, which means it is time to start planning marketing strategies for boosting the number of university applications. In our previous articles we talked about how quality information increases students interest in universities, andthe potential reviews hold for heightening applicants' interest and engagement levels. It is time to work creatively to find the best approach to student recruitment, which is why we are presenting you with some tips for success.
1) Emphasize your career development opportunities. The key goal of university students is to finish their degrees and begin their professional lives in a good position; ready to find a top company and do something that makes them happy. Career orientation and professional networking represent important offers that make the difference between programs. Showing your commitment to the development of students after graduation is highly valued by applicants.
2) Make use of social media channels to connect with students. Nowadays, applicants are connected through different social media channels. Facebook, Twitter, LinkedIn, Xing – all of these social channels need to have updated content that attracts younger generations. Keeping people updated with departmental news is a great way to connect with students.
3) Use technology to inform students. These days, universities cannot expect that prospective students land on their university pages by chance. It is also important to include clear information about programs in key platforms where students can search for study opportunities. Moreover, the inclusion of pictures, videos, and virtual tours of the campus helps to catch the attention of students.
4) Develop a mobile app for your university. Young generations consume internet via mobile devices. Offering up-to-date information about university transportation, events, library services, and even the lunch specials at the cafeteria could completely transform the way your current and prospective students see your university.
5) Keep alumni engaged with your university. From good career offices to digital content, alumni carry valuable information about your university and your programs that could build both reviews and recommendations.
6) Use smart email marketing. Students are bombarded with advertisements about schools and universities, but general content will never catch their attention. Invest time and money in targeted emails so your prospective students get information on exactly what they want. In the end, such strategic marketing will significantly improve the quality of your leads.
7) Pay attention to university website metrics. As emphasized above, prospective students belong to a young generation connected online. Helping students find your website should be part of your marketing goals. Building partnerships with popular websites that engage your target audience is a great idea. Online partnerships reward you with more popularity in the web and with more traffic to your page.
8) Don't forget about parents. Parents generally have high influence on students when they are making decisions about their future career. Proper information about your programs and university are a must to gain the trust and influence of parents, which will be to the benefit of your program in the end.
This list is comprised of general ideas for boosting applications and engagement among your students. Each university is a particular case that requires creativity and, most importantly, it requires you to get to know your students, their needs and the best ways to deliver your message to them. At INOMICS we are happy to help you find the right strategy to promote your university and program. Please contact us for more information.
Photo Credit: Audio-Luci-Store