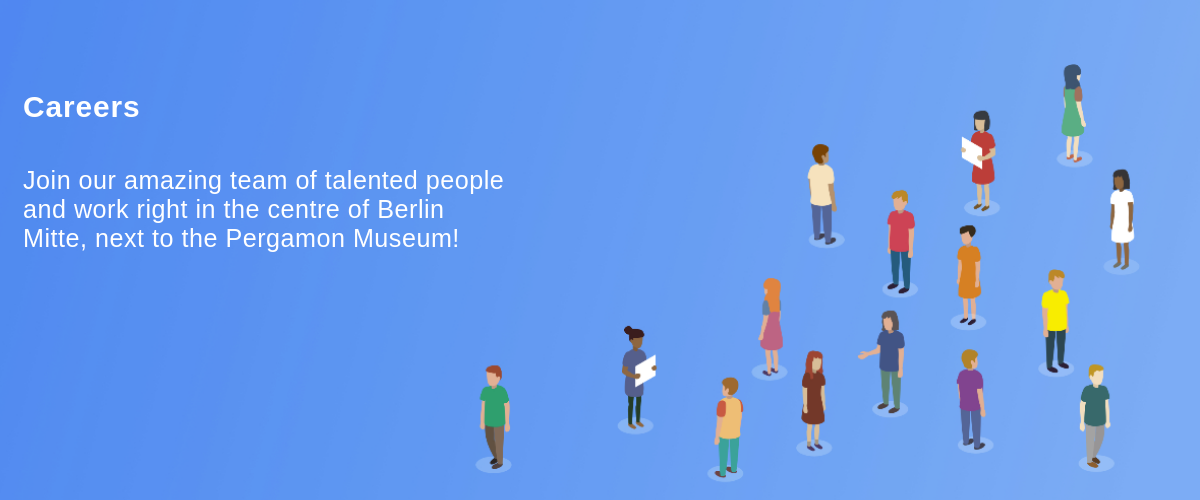 We create interesting content for new and prospective students, giving them a view behind the scenes of university life. We are looking for someone to support us who, like us, enjoys working in a dynamic work environment and who shares our passion for the latest trends in design and social marketing.
As such, we are looking for a:
Project based - 3D Generalist (Autodesk Maya) / Render Artist (Solid Angle Arnold)/ Part-time possible
to join our team in Berlin-Mitte.
What you will do:
Work as a part of our marketing team to integrate our digital avatar into photos
This avatar will help students to find out about universities and the programs they offer
You work with a pre-existing 3D character which needs to be adjusted to fit different contexts
You need a good eye and have the ability to make the images believable and attractive, bringing your own new ideas and creativity
Who you are:
A current student or professional in relevant subject (Animation,Communications Design, Web-Design, Graphic Design etc.)
You possess a talent for conceptualising design and bring original ideas to any team
You have experience working with Autodesk Maya
You have already rendered in Solid Angle Arnold
You're at home in Photoshop and/or After Effects and have an eye for a successful comp
You have experience in nCloth and XGEN Hairsystems
You can communicate confidently in German and English
You can compromise when necessary and the description "team oriented" is accurately applied to you
How you will benefit:
You will work as part of a friendly, supportive and motivated team
A modern workplace in the centre of Berlin-Mitte (opposite the Pergamon Museum)
You can plan your 20 hour working week flexibly to suit your timetable
You get your hands on a high end realistic 3d character, which will touch many aspects and systems of Maya
You will receive a fair monthly salary for your outstanding efforts
Please send your application, salary expectations and some work samples that you're particularly proud of to jobs@11academianetworks.com
Contact:
+49 30 2084712-50
---
Wir entwickeln attraktive Inhalte für angehende und junge Studenten um interessante Einblicke hinter die Kulissen von Universitäten zu bekommen. Wir suchen jemanden, der uns dabei unterstützt, Lust auf eine dynamische Arbeitsatmosphäre hat und unsere Leidenschaft für die neusten Trends in Design und Social Marketing teilt.
Diesbezüglich suchen wir zum nächstmöglichen Zeitpunkt einen engagierten
3D Generalist (Autodesk Maya) / Render Artist (Solid Angle Arnold) auf Projektbasis/ Teilzeit möglich
Deine Aufgaben:
Du arbeitest als Teil des Marketing-Teams mit dem Ziel, einen digitalen Avatar in in Bilder zu integrieren
der Avatar soll Studenten dabei helfen, Unis und Studienprogramme kennenzulernen
Der 3D-Charakter existiert bereits und muss jeweils kontextspezifisch angepasst werden
Du benötigst ein gutes Auge und die Fähigkeit, den Charakter in hochwertige Bilder glaubwürdig zu integrieren und eigene Ideen umzusetzen
Dein Profil:
Du befindest dich im Studium eines der Tätigkeit entsprechenden Fachbereichs (Animation, Kommunikationsdesign, Webdesign, Grafikdesign o.ä.)
Du besitzt ausgeprägte grafische und konzeptionelle Fähigkeiten
Du hast schon praktische Erfahrungen mit Autodesk Maya gesammelt
Du hast bereits mit Solid Angle Arnold gerendert
Du bist fit in Photoshop und/oder Aftereffects und hast ein gutes Auge für gelungene Comps
Grundlagen in Ncloth und XGen sind vorhanden
Du verfügst über ausgezeichnete sprachliche Kompetenzen in Deutsch und Englisch
Du bist kompromissbereit und team-orientiert
Unser Angebot:
Ein engagiertes und sympathisches Team freut sich auf deine Unterstützung
Ein modernes Arbeitsplatz im Zentrum von Berlin-Mitte (gegenüber vom Pergamon-Museum)
Deine Arbeitszeit von +/- 20 Wochenstunden planst du flexibel
Du kannst mit einem High End 3D Character arbeiten, der viele Aspekte und Systeme von Maya nutzt
Für deine Mitarbeit erhältst du eine leistungsgerechte Bezahlung
Bitte schicke Deine Bewerbung zusammen mit einigen Arbeitsproben auf die Du besonders stolz bist an jobs@11academianetworks.com
Kontakt:
+49 30 2084712-50