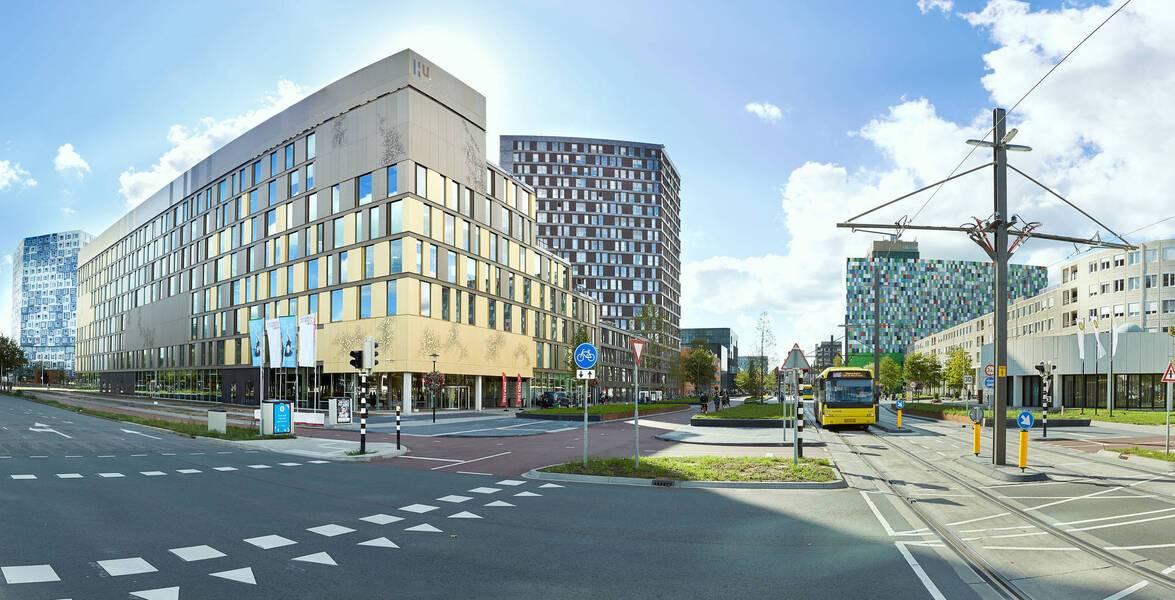 Campus Reviews
Why study at University of Applied Sciences Utrecht, Netherlands?
If you are looking for a modern, forward-thinking university which will train you in both concrete knowledge and applied skills, specializing in Bachelor's and Master's degrees in topics like business and marketing, then you should consider looking at the University of Applied Sciences Utrecht, also known as HU.
We spoke to a bachelor's student in Creative Business at HU, Lorenza Scala, who is from Italy and who is in her fourth year of studying Creative Business, to get the inside scoop on what studying at the university is really like and what student life there has to offer.
Programs available at HU
This combination of conveying both knowledge and skills is key to the university experience at HU. As Lorenza explained, "The HU definitely allows a practical university experience. Although there is theory included in the courses, most of the projects consist in applying the theory to brands and experiences. It is an approach that not only helps students to be creative but also to be prepared for a future job."
HU offers both Bachelor's and Master's programs, in applied subjects like International Business, Data-driven design, and Engineering. In addition, it also offers a number of Teacher Education programs, taught in English to prepare students for teaching in international institutions.
One of the specialist courses offered at HU is a Bachelor's in Creative Business; a full-time four-year programme which involves teaching in a broad range of topics across marketing, media, and business. The course aims to encourage students to develop their skills in cross-cultural communications and creativity, as well as teaching the essentials of business theory and related topics to prepare students for working in marketing, customer experience management, and other related roles.
Educational approach at Creative Business at the HU
One of the strengths of HU is the breadth of topics offered within a single degree. Reflecting the changing and diverse needs of the modern workplace, the courses aim to equip students with a variety of skills and broad knowledge.
Lorenza said it was this variety which drew her to the university: "I was personally attracted by the variety of courses offered within the same bachelor degree, from communication to entrepreneurship to artificial intelligence. This aspect, at the time, made me think that with a completed degree I would have had the opportunity to enter many fields, and in fact, as I am graduating, I have the skills to apply to job very different from each other. That was the plus that drove me to HU."
Strong research areas at Creative Business at the HU
Within the Creative Business faculty, research is performed into cutting-edge fields like Data-Driven Design, Growth Hacking, and Artificial Intelligence. These topics are researched by faculty like senior lecturer Bob Cruijsberg who specializes in User Experience Design or Aletta Smits who is currently acting head of research in the Human Experience and Media Design group, with a specialization in Data Mining and Engagement Metrics.
This means that there are electives for Creative Business students to choose from so they can specialise their knowledge. "I personally have had great experiences with the electives I chose," Lorenza said. "Most of them focus on marketing, branding and technology... I did appreciate [the course on] Persuasive Content Marketing because it digs deeper in some marketing aspects never covered before in previous classes."
As well as the specialist research in Creative Business, HU also has collaborations with labs and centers of expertise including a the Big Data Lab, which examines how the growth of Big Data affects our lives, covering both practical and ethical questions about the use of data and technology in people's everyday experiences.
Collaborative partnerships at Creative Business at the HU
HU works with other universities to offer exchange programs such as Erasmus which allows students to study abroad at a partner university for part of their degree, as Lorenza did. This includes universities throughout Europe and around the world, such as the University of Applied Sciences in Berlin, Germany, Monash University in Australia, the Cork Institute of Technology in Ireland, or the Polytechnic Institute of Porto.
Conversely, international students can also apply to become an exchange student at HU and to experience life in Utrecht. Many courses are taught in English, and to ensure you have the right level to understand the course content you should be around a B2 level in English.
For new exchange students, there is an Introduction Day held twice per year to welcome you to the university and arrange for you to meet your fellow classmates and find your way around the campus.

Cost of living in Utrecht
Utrecht is located in the middle of the Netherlands, so it's a great base from which to explore other parts of the country or of Europe. It's easy to get around thanks to the railway station serving trains to the capitol city of Amsterdam – which takes just 25 minutes to travel to. Or if you want to fly further afield, you can reach the international Schiphol airport within half an hour by train.
As for getting around the city itself, you can embrace the most Dutch form of transport – the bicycle! Cycling is popular, easy, and safe in the Netherlands, thanks to plentiful cycle lanes and slow-moving car traffic. So you can hop on a bicycle and explore the city that way.
Lorenza said that she's enjoyed social activities in and around the city of Utrecht. "I did participate in social events if other students that I knew did as well," she said. "Otherwise mayor activities on campus are coffee or beer with fellow students." She also mentioned she has applied to join the university tennis club.
Like many cities in the Netherlands, Utrecht isn't the cheapest in terms of costs of living. You can expect to pay around €1,000 per month for a one-bedroom apartment in the city, but you can save money by sharing an apartment with other students. The coast of groceries is typical for Western Europe, but many of the city's most popular attractions, like visiting the canals or taking in the breathtaking view from the Dom Tower, are free or affordable.
Tuition fees at Creative Business at the HU
The good news when it comes to money is that tuition fees at HU are typically very low, especially compared to much more expensive US universities. The exact amount you pay will depend on whether you are an EU citizen and whether some exemptions apply to you. But even if you are from outside the EU, you can expect to pay just €7,500 for a year's fees.
If you are from the EU, then even better! Your tuition fees will be as low as €1,000 for a full-time degree, or a part-time course, whether that's a Bachelor's or a Master's degree.
There are some differences depending on factors like whether you already have a similar level degree to the one you are applying to, or whether your program is within the areas of health or education, so you can check for yourself how much your fees will be using the HU tuition fee calculator.
Campus life at Creative Business at the HU
More than just an education, a key part of the university experience is taking part in campus life and getting to know other students. HU offers amenities like the Olympus Sports Center which is based on campus and has facilities including three sports halls, four squash courts, a fitness zone, a dance hall, and support for outdoor sports of all kinds as well. The building for Creative Business, Heidelberglaan 15, was built with environmental concerns in mind and was awarded the most sustainable educational building in the world.
Lorenza describes a casual atmosphere on campus, with students getting together for a coffee or a beer. Part of what sets the university apart is its high number of international students and students from diverse backgrounds, which makes for a lively student experience.
"It is very diverse, many internationals, a lot of cultures. There are many Dutch students as well, but in my opinion we all blend together," she said, adding that she never saw students splitting themselves by nationality – rather, everyone socialized and studied together. Additionally, the frequency of group projects as part of the study programmes encouraged everyone to get to know each other and to work together.
---
Interesting in getting to know more?
Follow HU on Social Media